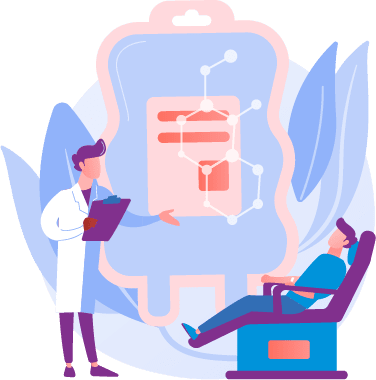 WHAT ARE
BIOSIMILAR MEDICINES?
Biosimilar medicines or biosimilars are biological medicines that contain essentially the same active substance as their originator. Although minor differences may exist, a biosimilar matches the originator in terms of quality, safety and efficacy.
All originator biological medicines are patented. This means that once launched, for a period of time that varies, no other product with the same active substance can enter the market. When this term of exclusivity rights expires, new products with the same active substance can gain market access. These new biologics must comply with the same stringent regulatory requirements and are known as biosimilars.
BIOSIMILARS AND
COLORECTAL CANCER (CRC)
The first biosimilar was approved by EMA in 2006, and since then biosimilar production and approval have grown. Currently more than 70 biosimilars have been approved by EMA, and we now have more than 15 years of positive experience with biosimilar use. In 2017, the first biosimilars for the treatment of patients with lymphoma (rituximab) and breast cancer (trastuzumab) were approved.
For patients with metastatic CRC (mCRC), EMA has approved a biological medicine known as bevacizumab, which is indicated for the treatment of mCRC in combination with chemotherapy drugs. In addition to the originator, EMA has currently (up until October 2021) approved seven bevacizumab biosimilars that can be used for the treatment of patients with mCRC.
WHAT IS THE BENEFIT OF
USING A BEVACIZUMAB BIOSIMILAR?
For a patient, there is no additional treatment benefit or downside to using a (bevacizumab) biosimilar rather than the originator. Both types of products have undergone rigorous testing and comply with the same strict, high-standard safety and efficacy criteria set by the European Medicines Agency. However, as with all biosimilars, the availability of bevacizumab biosimilars to European health systems and hospitals offers several advantages for the patient community and society, as they contribute to more sustainable and affordable healthcare systems.
Biosimilars offer the opportunity for:
funding new, innovative treatments for patients, using released resources to improve patient support programs, hiring additional nurses, psycho-oncologists or nutritionists in hospitals, or investing in new treatment and research
helping reduce the waiting time to be treated
more patients to have access to biological treatments
WHAT IS
SWITCHING?
A change between two products with the same active substance is called switching. For example, switching occurs if you have been treated with the originator and your physician proposes to replace the originator with a biosimilar.
Switching does not result in treatment change. However, as with all medicines, you should discuss and decide with your physician your treatment and choose together the best option for you.
Remember you can always ask about anything you do not understand or seems unclear.