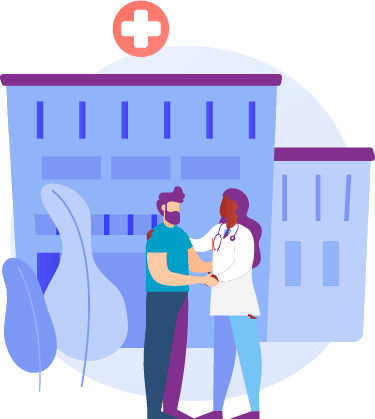 FOR HEALTHCARE
PROFESSIONALS
To support healthcare professionals in communicating information on biosimilars to patients, we created:
A checklist with questions patients with metastatic colorectal cancer may have around biosimilars. It includes a selection of questions and answers, followed by a short list of items of relevance to keep in mind when discussing biosimilars. The checklist is available in four languages: Dutch, English, Polish and Spanish.
A video about biosimilar communication between patients and clinicians.
Short presentations for healthcare professionals around basic concepts regarding biosimilars.
Frequently Asked Questions and answers document around biosimilars.
CHECKLIST
FOR DOCTORS AND NURSES
A guide for healthcare professionals to address any questions cancer patients may have on biosimilars
LISTA DE VERIFICACION
PARA MÉDICOS Y/O ENFERMERAS
Medicamentos biosimilares – documento informativo para pacientes con cáncer colorrectal
LISTA KONTROLNA
DLA LEKARZY I PIELĘGNIAREK
LEKI BIOPODOBNE – Przewodnik dla pracowników służby zdrowia, który pomoże odpowiedzieć na wszelkie pytania pacjentów dotyczące leków biopodobnych
CHECKLIST
VOOR DOKTERS EN VERPLEEGKUNDIGEN
Een gids voor beroepsbeoefenaren in de gezondheidszorg om eventuele vragen van kankerpatiënten over biosimilars te beantwoorden
CHECKLIST
POUR LES MÉDECINS ET LES INFIRMIERS
BIOSIMILAIRES – Guide pour les professionnels de la santé afin de répondre aux questions des patients cancéreux sur les biosimilaires
CHECKLIST
PROFISSIONAIS DE SAÚDE
MEDICAMENTOS BIOSSIMILARES – Guia para profissionais de saúde de respostas a pacientes sobre biossimilares
CHECKLIST
PENTRU MEDICI ȘI ASISTENȚII
BIOSIMILARE – Întrebările pacienților cu privire la biosimilare. Ghid pentru profesioniștii din domeniul sănătății
KONTROLNI SEZNAM
ZA ZDRAVNIKE IN MEDICINSKE SESTRE
Vodnik za zdravstvene delavce za pomoč pri odgovarjanju na vprašanja bolnikov s kolorektalnim rakom o podobnih bioloških zdravilih
CHECKLIST
ΒΙΟΟΜΟΕΙΔΗ ΦΑΡΜΑΚΑ
BIOSIMILARE – Ένας οδηγός για επαγγελματίες υγείας που προσφέρει απαντήσεις σε πιθανές ερωτήσεις ασθενών με καρκίνο του παχέος εντέρου για τα βιοομοειδή φάρμακα
VIDEO
ABOUT COMMUNICATION AROUND BIOSIMILARS
Biosimilar Medicines - Lunch Time Presentation Part I
A lunch time presentation for clinicians and nurses on Biosimilar Medicines – Definitions, Development and Regulation in the EU.
Biosimilar Medicines - Lunch Time Presentation Part II
A lunch time presentation for clinicians and nurses on Biosimilar Medicines – The European Experience, Switching, Added Value, and Communication Around Biosimilars.
FAQ DOCUMENT ON BIOSIMILIARS
Read our FAQ document which contains answers to the most common questions asked on biosimilars.
POWERPOINT
PRESENTATIONS
In collaboration with our expert group, we developed the below two presentations on biosimilars. The audio presentations aim at providing the necessary information for healthcare professionals on the following topics:
Overview of biosimilars
Benefits of biosimilars are for the patients and healthcare systems
Biosimilar development and approval
How biosimilars differ from generics
How to communicate information about biosimilars to patients
Switching with physician involvement
To access the two short presentations, click on the links below.
BIOSIMILAR MEDICINES: PART 1
BIOSIMILAR MEDICINES: PART 2